Last updated: 7 February 2018, 10:39 am
 Dozens of people are missing following a deadly earthquake in Taiwan, with more than 40 feared trapped in a multistory building tilting perilously in the northeastern city of Hualien.
The magnitude 6.4 quake struck 13 miles (22km) north of the city late Tuesday, killing at least six people and injuring 258 people. It also damaged bridges and buckled roads in the east of the island.
Earlier, officials said seven were dead, but they revised that figure Wednesday evening.
Video from the site of the quake showed smoke rising from collapsed buildings on
Wednesday morning as firefighters patrolled streets covered in rubble.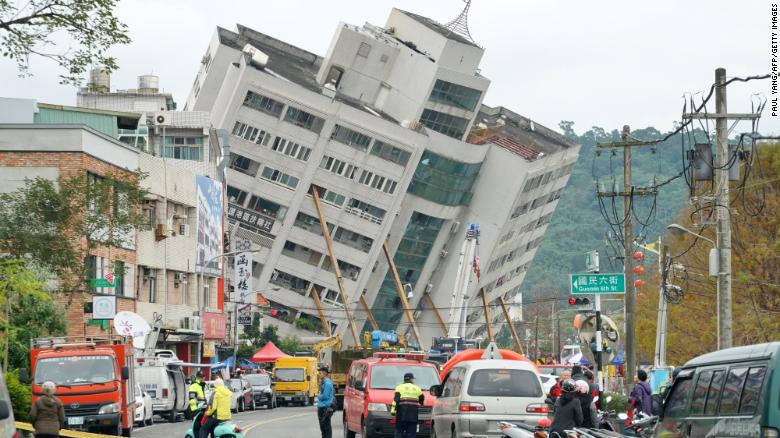 Emergency workers used enormous beams, raised with a crane, to prop up the Yun Men Tsui Ti building, a large residential and commercial complex, which leaned ominously over the street below.
Of 67 people still missing in the city, 13 are believed to be inside a B&B called the Beauty Inn in the Yun Men Tsui Ti building, according to the Tourism Bureau.
An additional 39 residents registered in the building have not been reached, although it's unclear if they were in the building when the quake struck.
It's one of four buildings in the city that were either tilting or had collapsed, authorities said.
At the flattened Marshal Hotel in downtown Hualien, rescuers reached two workers who had been trapped near the main counter in the lobby, Taiwan's official news agency, CNA, reported Wednesday.